---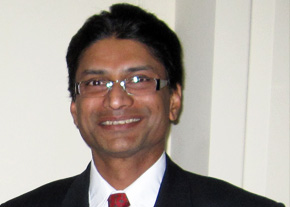 Terence Fernandes
SVP, Global Operations and Client Services
---
Terence Fernandes
SVP, Global Operations and Client Services
Terence has been with OKS Group for more than 25 years. His understanding of OKS Group's operations and its focus on client satisfaction positions him to understand core corporate values as well as opportunities for growth and continuous improvement.
Terence's ability to interface with clients as well as the production staff is especially important as OKS Group moves into new service areas. He explains: "This is a time of unprecedented growth for OKS, both in traditional service areas as well as newer segments like our call centers and business process consulting. Even long-standing activities like data capture are undergoing change with the advent of new techniques such as internet data mining and smart web-bots. However, the fundamentals remain the same – providing the best possible service in goal-oriented partnerships with our clients."
Terence holds an MBA from St Joseph's University in Philadelphia, and his interests include cricket and travel.